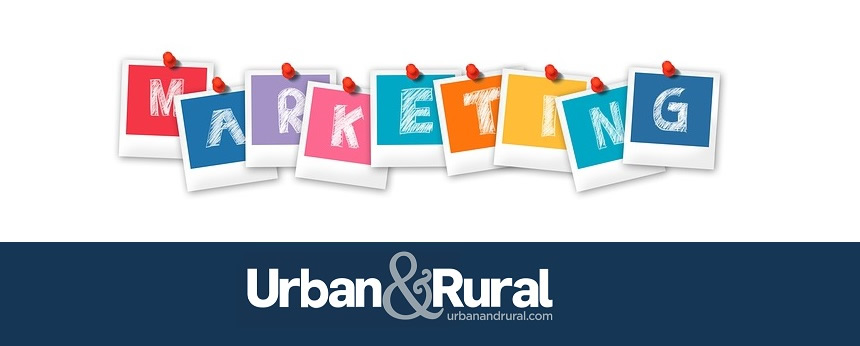 Let's get creative!
Across all media you need to create the right first and ongoing impression, we are selling your property to each potential buyer or tenant and the better it is presented, the higher the level of interest and in turn the better the price achieved. We work with you to create the marketing ingredients that will feature in all visible locations from the local branch display, printed brochures and marketing and across all digital platforms to include electronic communication to our database of over 25,000 current qualified buyers and tenants waiting to be notified as newly listed properties become available, or when a price or content is amended. When we work together to get this right you can expect the best possible response driven by great photographs, an accurate floor plan, wonderful video tours, elevated photography. Add to this considerate presentation advice and everything points towards achieving our common goal. We recognise that we are a service and marketing business, delivering the optimum marketing package to promote your property across a varying range of media. It is not our role to convince you that some things work and some things don't, or to design a package that suits our budget but instead to explain each option and the expected results in detail, working with you to compose the right strategy for your specific needs. Whether in physical high quality print, through digital channels, electronically to a targeted database, the use of video content, professional photography, ordnance survey mapping, enhanced elevated photography or even a targeted marketing campaign to the most probable addresses of potential buyers that have yet to enter the market we invest in the technology to be able to deliver on all fronts. The vast majority of this is included in your sales fee however we can also offer discounted rates for additional marketing should you wish to go further and invest in creating outstanding exposure for your property, any charges for which will be confirmed separately in writing before you agree to them.
---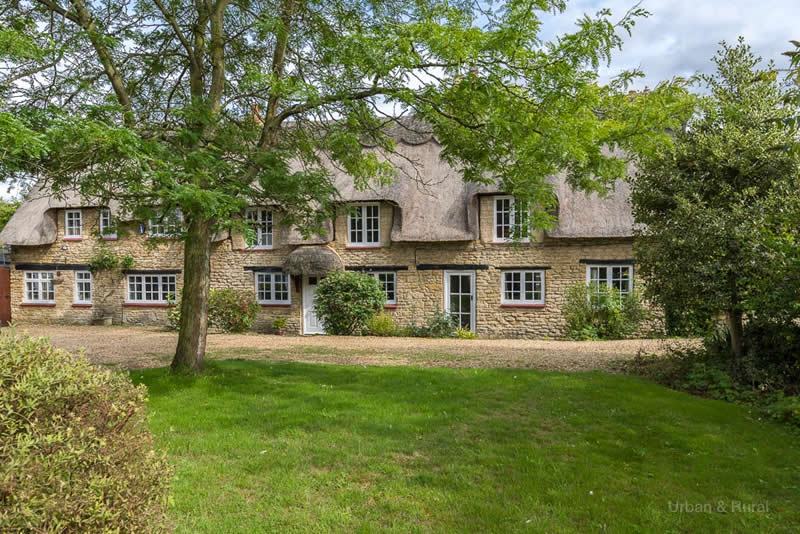 Great quality photographs
People buy with their eyes, whether they are looking for the nicest looking cake, the juiciest steak, their favourite furniture or a larger purchase like a car or house they look for the one which is most appealing to them. ​We own and use professional DSLR cameras with quality lenses, additional lighting and we edit the photos to make them look amazing. We know this helps us get more interest in our properties and the more viewings you have the better chance there is of achieving the highest possible price. Everyone wants property marketing that gives off the wow factor and that is what we strive to do with every photograph we take. ​​Thanks to the variety of weather conditions we have in the UK we often take photos on various days and at various times, property photographs normally look best with a blue sky in the background and with the sun on the front of the house. We will visit as many times as we need to so we can take the optimum photograph to show your property at it's best. ​Unlike some agents there is no additional upfront charge for this service. We feel that it is so important to the marketing of our properties and it helps us sell more homes due to the greater interest it attracts that it is an essential part of our marketing. If you are currently looking for a property take a couple of minutes to review how you are looking for your next home, we are sure that the photograph is one of, if not always the first thing you will look at.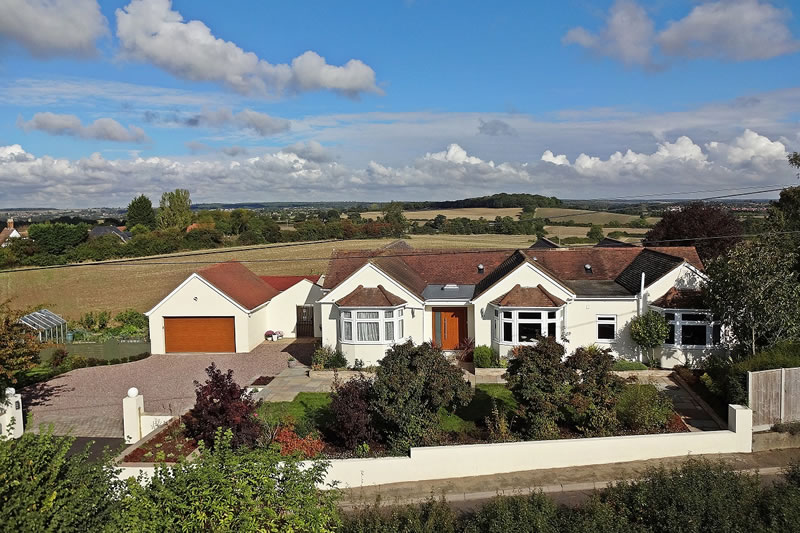 Showing your property from a different perspective
Wherever your property is being marketed it is always competing for buyers attention. Online it is surrounded by other properties in a similar price bracket, in the newspaper it is on a page with other properties and even in our prominent high street window displays there are other properties surrounding yours and nearby there will be other estate agents trying to attract those potential buyers too. ​The first thing most buyers see is the main photograph, we only have a few seconds to grab their attention while they decide if they wish to find out more about your home or look at the next one. One technique we utilise to make your home stand out from the others is to use elevated photography to really make your home look different to others on the market. ​This type of photography benefits many properties and not just the ones with amazing views;, we own the equipment and offer this extended marketing option at no additional cost.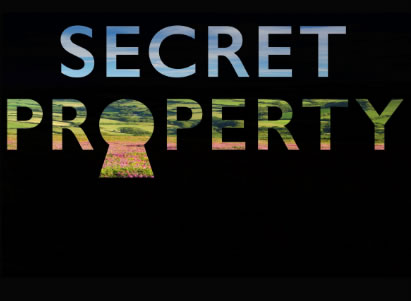 Off Market exposure
If you are not in a hurry to find a buyer, worried about selling too quickly, would like to find a buyer who is working in your timescales then our 'off market ' option is for you. ​A quieter, more personal form of marketing delivered by our experienced team who will hand pick potential buyers from our extensive qualified database of people who are looking for a property just like yours and are happy to move in your timescales. ​
You can choose the avenues you wish to use for marketing, maybe you would rather it was not visible in printed or digital media, maybe you would like to restrict viewings to particular days, the choice is completely yours and you can step up to full marketing at any time effectively keeping you totally in control. The main benefits for our 'off market ' option is hand picking your buyer from our extensive database of genuine buyers without having to shout to your neighbours and friends that you are thinking about moving before you tell them personally. ​Finding you a buyer who is happy to move within your timescales giving you time to find your dream home without any pressure. ​Testing the market at a higher price before full marketing without having to be seen to reduce the price should it not get sufficient interest. ​And as we operate on '​No sale - No fee' if you decide not to move we do not charge you a penny and your details are simply archived until you are ready to start again.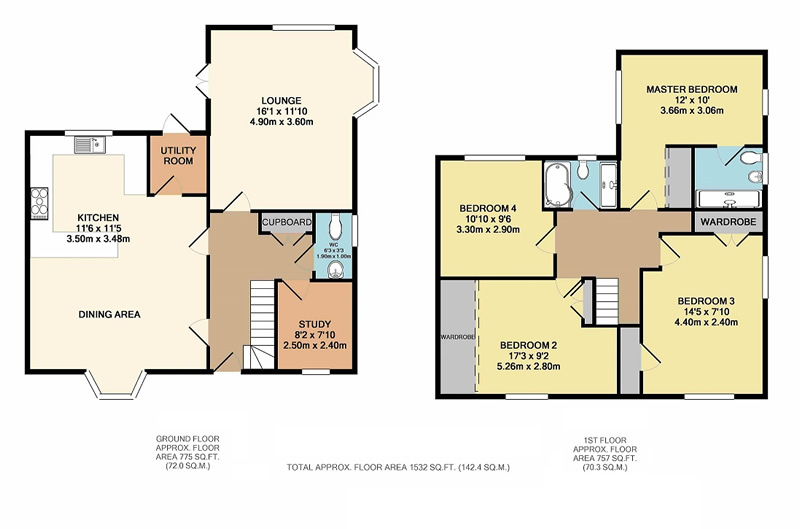 Buyers expect floor plans
In a recent survey the number one piece of marketing that buyers said they appreciate most is a detailed floor plan of the property.​
The plan allows them to determine furniture layouts, aspects and what alterations they may wish to consider marking when deciding whether to purchase a property or not. A detailed floor plan can provide key information as a reference point during the proceeds of the sale and reduce the number of additional visits required to establish the correct situation. We use metropix, an industry leading floor plan programme to create ours and provide these at no extra cost as part of your marketing package. If you would like to upgrade to a 3d floor plan simply ask your branch for details of any additional cost.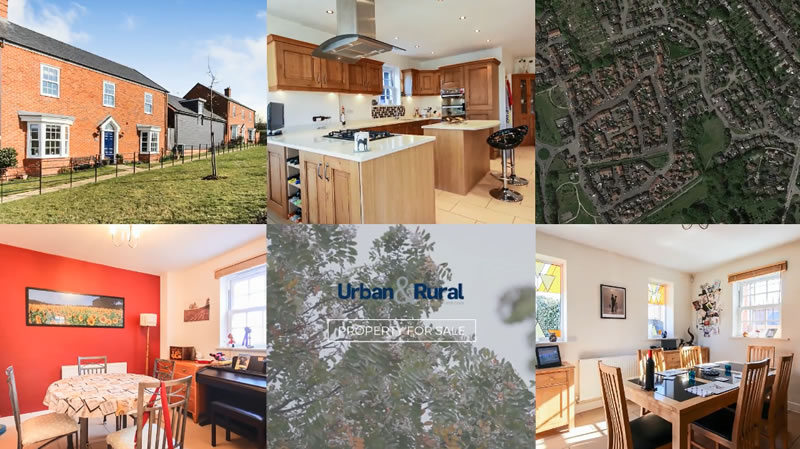 Video tours
A video tour brings to life the property presentation and drops additional content into the process such as aerial mapping depicting the location and creative natural content such as lifestyle or nature clips between shots, which is then edited to create a professional production with an accompanying soundtrack. Ask for an example or click the image to play one we have created previously.​
We include a video tour in your marketing at no extra cost however if you want a more bespoke property 'virtual tour' or professional video created then simply ask your local valuer for a quotation. We recommend utilising our inclusive products before extending your marketing strategy.
Some branches can offer you enhanced video walk throughs which offer an outstanding amount of detail, ask your branch valuer if they are able to offer this and if so they will be able to provide a demonstration and details of any additional cost.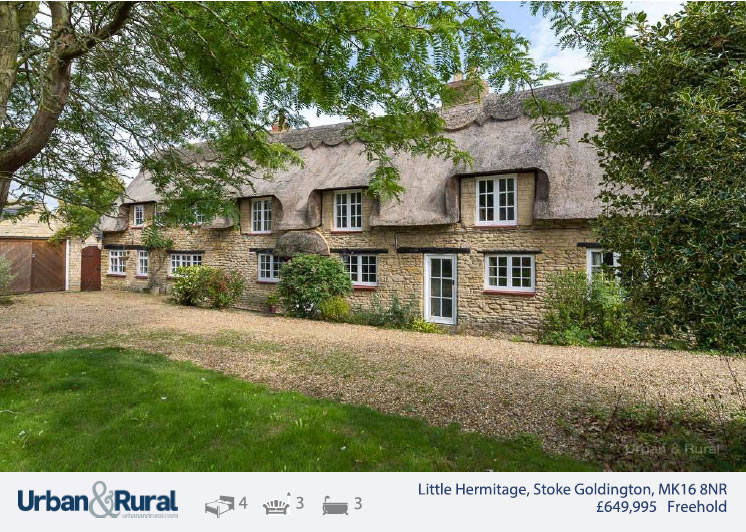 Property brochures generate interest
Property brochures give you an opportunity to give potential buyers a beautifully presented collection of the ley marketing ingredients to print or view and share digitally. Great photographs, a thoughtful description, the floor plan and energy performance certificate are all included as a reference point that is available on and offline.
We create professional brochures as part of your marketing strategy, they are available on our website, on rightmove, in the thousands of property match emails we issue to our database and in our e-magazine, not to mention the amount we distribute to visitors when requesting a copy at any of our 12 connected branches across Beds & Bucks. Click the image to view a sample brochure, depending on the individual property requirements we have 4,6,8 &12 page versions and for those who want a more bespoke service we can provide you a quotation for enhanced printing onto 350gsm card in volumes of 30 at a time. Simply ask your valuer for more information.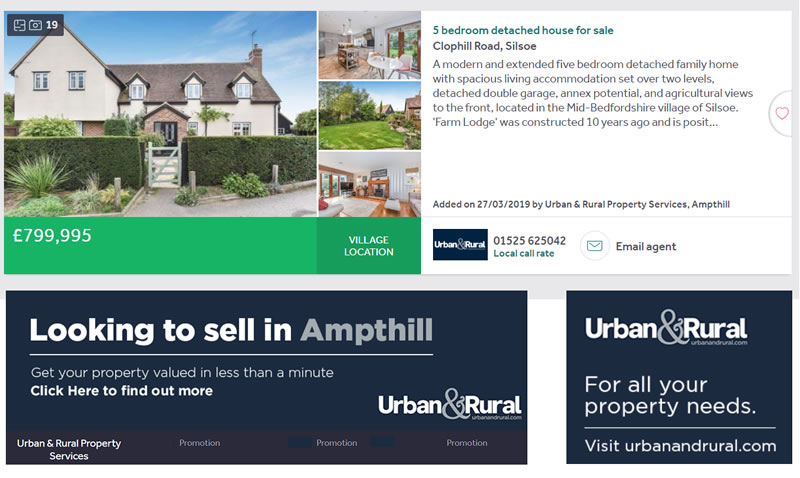 Online portal advertising
Since its creation we have been associated with rightmove, helping each other to evolve it has been a successful relationship. We have always listed our available property on the portal and consider it to be an important part of our marketing strategy as buyers have come to rely on the platform for information, setting up alerts and following content in the comfort of their own home day and night. In addition to this most branches also advertise with 'onthemarket', a rival portal that is gathering huge visitor numbers as it has many properties listed on their site before anywhere else. To generate interest we purchase additional products such as premium display and feature property, some of which we include in your marketing package. We also buy enhanced branding products to ensure that buyers and sellers always identify with us as a key brand of trust and reputation for managing large volumes of local property transactions.
If you would like to discuss entering your property onto an enhanced listing please ask your local valuer for a quotation for the additional products available.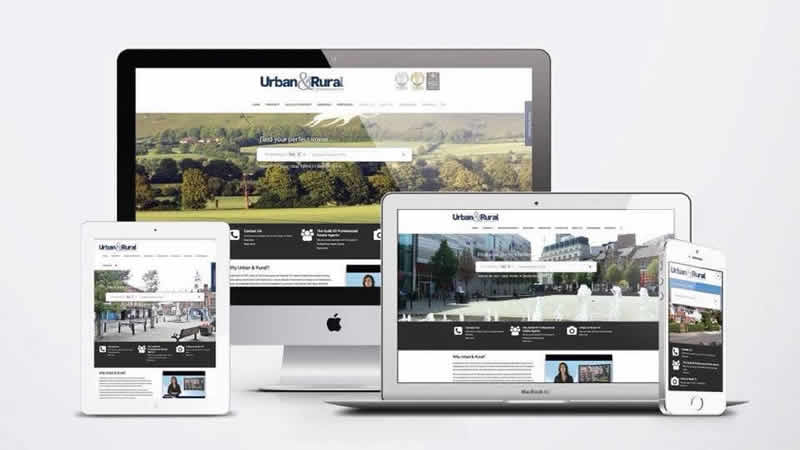 urbanandrural.com
Advertising on our own website is critical. there is far more content, local and general which is added to and updated regularly. Your property is presented beautifully on our site which is fully responsive, working across all devices and one that is constantly being improved for the client experience. Click the image to visit the site and see how it functions, our property match emails take the client directly to your property on our website and enables them to instant message, arrange a viewing, ask for further information and download a brochure. As new technology surfaces, we add the relevant tools to our website.
With stamp duty calculators and access to our diaries clients can interact with our Urban & Rural 24 hours a day.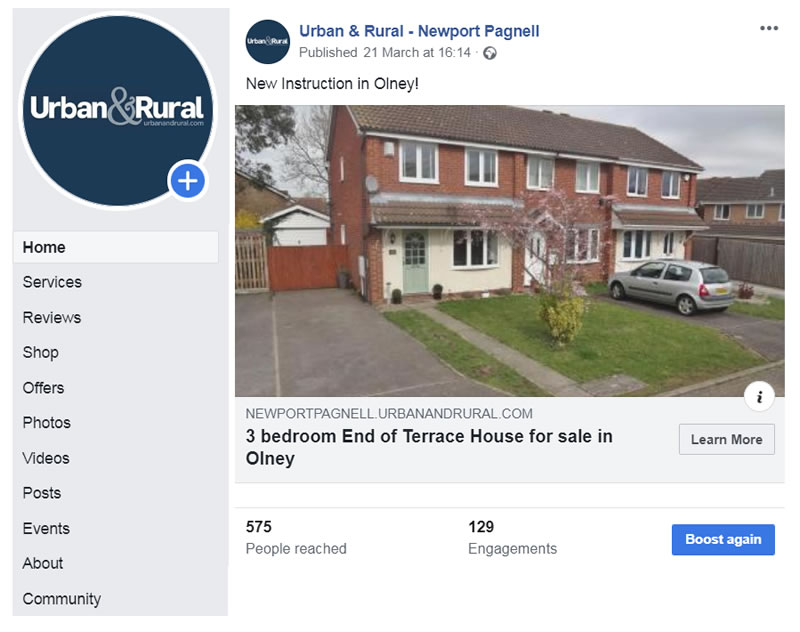 Harness the power of social media reach
We promote your property on social media, like or loathe it the audience is vast and the exposure it creates replaces that of your traditional local newspaper. Businesss social media pages, particularly Facebook & instagram allow us to promote your property to a chosen target audience, meaning that we invest in advertising and sending your property listing directly to the demographic we determine when carrying out your valuation. Perhaps we are looking for today's version of you when you purchased your home, or a new type of buyer because the region has changed significantly. As your agent we work hard to reach the likely buyers for aa property such as yours.
Why not click the link to follow our main Facebook page or follow your local branch page for local news and property information.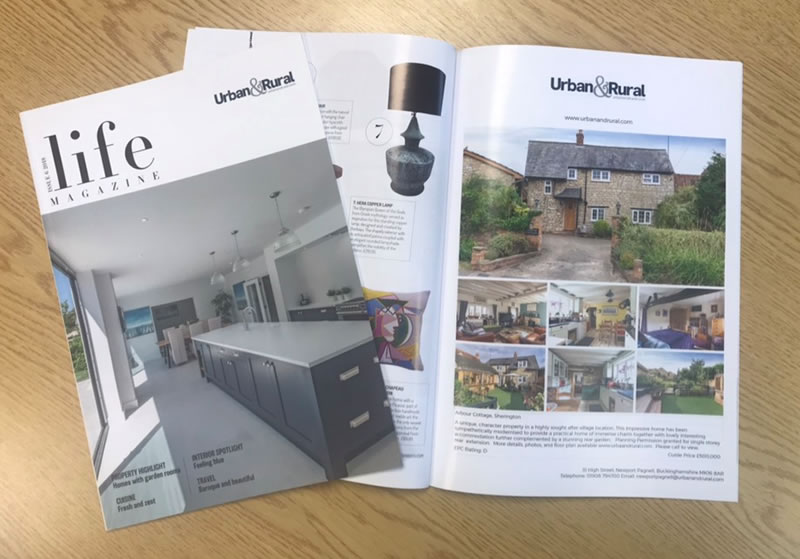 Regional property magazines
We produce high quality glossy magazines every six weeks and include a selection of property from our available stock which is distributed across our branch network and electronically to our database. The magazine has fresh editorial content on home and lifestyle topics and many branches deliver copies to local cafe's and waiting rooms in the local area.
We produce rotating brand and lifestyle editions to keep content interesting and ensure that the publication never looks tired. We have been using this added marketing angle as a unique tool since 2009 with excellent feedback from both buyers and sellers.
Ask for your copy and see how your property could be presented in this additional product included in your marketing strategy.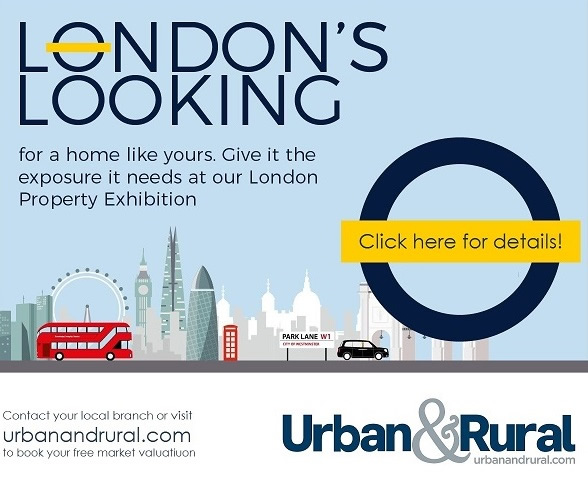 London property exhibitions
We hold several Central London property exhibitions at our associated Park Lane offices where we display our stock of property to the lucrative London investor market and 365 days a year by utilising the two highly visible touch screens which are always online, allowing potential buyers and tenants to search by region, price and property type from outside of the premises, under cover should the rain fall twenty four hours a day. This added marketing angle may or may not be pivotal to securing your ultimate buyer or tenant but it is another angle we include for for no additional cost.
We can also arrange for your property to be displayed for an agreed period of time at the Fine & Country branch on Park Lane, simply ask your valuer and they can arrange for this to be carried out and explain the details.
Why not click the image and see the premises where we hold the exhibitions, directly opposite Hyde Park and a stones throw from Marble Arch.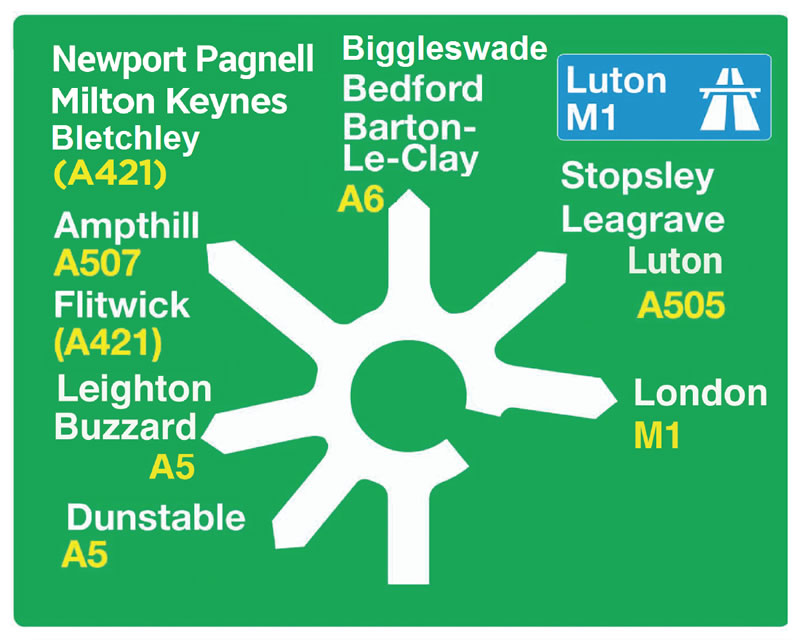 Our branch network
Our network has the ability to promote your property further and assist with your onward purchase. Selling property for the best possible price is far more complex than simply placing the property on rightmove, in fact that is simply the easy part after all if you consider our fixed costs with branches, marketing and personnel why would we take all of that on if it didn't really make a huge difference. Once we have designed your marketing strategy we will carefully prepare the content so it is market ready and approved by you before it goes live. When choosing your agent you are entrusting the sale of what is quite probably your largest single asset to a team of professionals, to reassure you of our professionalism and ability to generate results we invite you to read genuine reviews from clients about their experience when dealing with us and to visit your local branch to meet your team and see them in action.
We are local people who are based directly within the local area that we cover. A unique network of 12 strategically positioned branches and 3 Central hubs made up of locally committed teams delivering the highest standards of traditional service complimented by the latest technology at the heart of everything we do. In addition to this we are members of Guild Property Professionals, a national network of over 800 hand picked independent estate agencies across the United Kingdom, this enables us to assist you by putting you in touch with pre qualified professionals in most locations should you be relocating.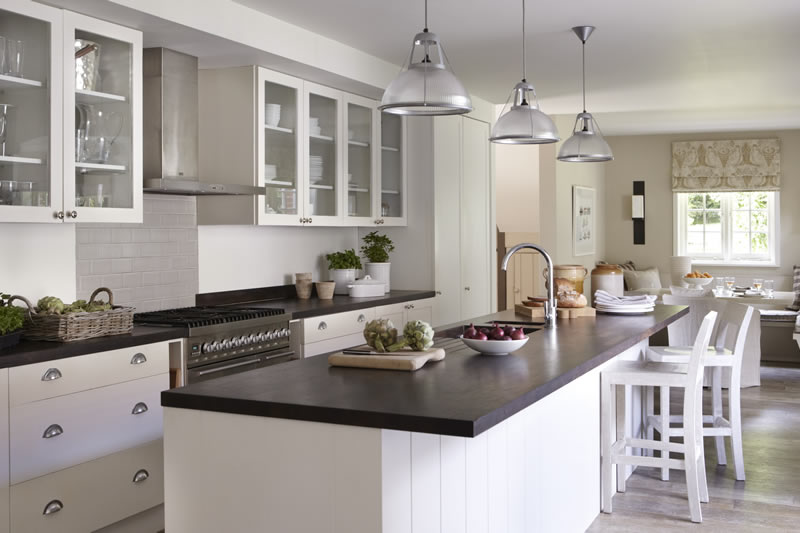 Open house viewings
Open House viewings are often thought to be reserved for run down, tatty properties which need a lot of work but in todays fast moving, busy market they can be used very effectively to reduce the stress of viewings for the seller and to encourage the best possible sale price for your property. ​If you are currently living in your property you can market the traditional way and have viewings spaced out over a few hours, a few days or a few weeks. Every time you have a viewing you make an extra special effort to tidy the property, put the kids playtime on hold, polish in all those hard to reach places and are on tender hooks wondering what these potential buyers may think. Then you may receive an offer from one of the first people to view but you have more people booked in to look round in the next few days. Do you accept the offer? Will the other buyers pay you more? If you wait will the people who have made the offer find another property? You are left in a difficult and stressful position. With an open house viewing we agree a day and time, normally on a Saturday when we will arrange all of the viewings with potential buyers around this time. This way you will only have to make that extra special effort to clean and tidy once and you will have a selection of buyers viewing. We will still book them a time slot but they are likely to see that there are other people who have also arranged to view leaving or arriving at your property and this usually creates a heightened demand for the property which encourages buyers to make their best offers to reduce the chance of them losing the property to another buyer who they saw waiting to view your property when they had finished. Ask your valuer about the benefits of our Open House strategy.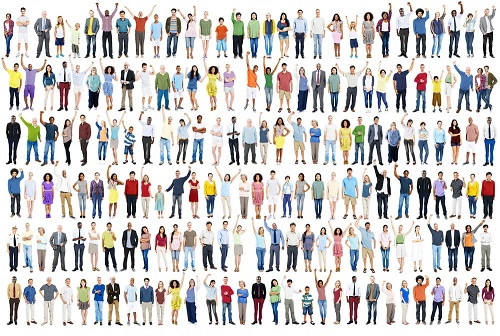 Targeted marketing
Urban & Rural subscribe to a unique digital hub allowing us to design complex targeted marketing campaigns which seek out the next wave of potential buyers for a property such as yours.
This strategy is highly effective for unusual or individual properties, sellers who are looking to promote their property beyond the active sea of buyers in the market and instead targeting those who may have yet to make the decision to move but could be tempted should the right opportunity arise. Often people who are not registered contact agents once a property they stumble across that they would buy has been marketed and sold, choosing not to register with agents or portals because they were only interested in that property, so when the next one that might tempt them becomes available once again they will not be aware until it is either too late or the property is no longer available. This option can place your property into the eyes of a buyer not cosidering others in the wider market.
Ask your valuer for details of this additional service and any costs that may apply.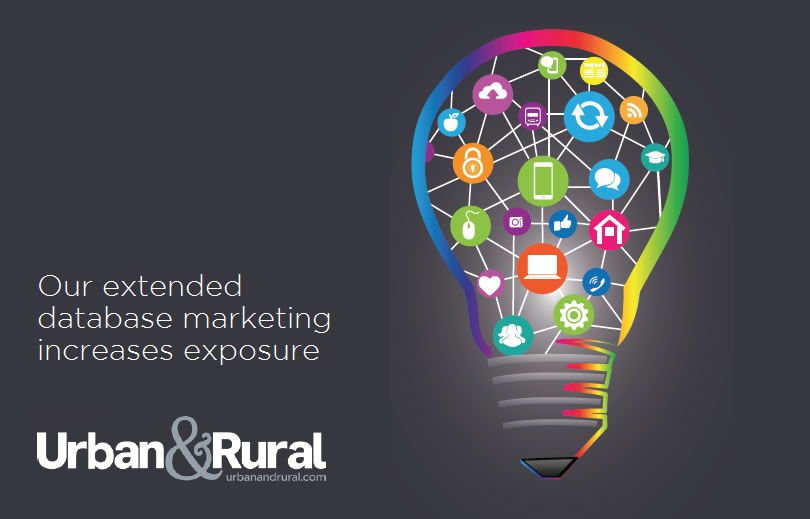 Our additional marketing database
At Urban & Rural we invested in a marketing database platform over 3 years ago, the main objective to offer clients an ongoing communication of property news, local information and a way of maintaining contact with us beyond their move. Over that time and post GDPR our database has grown month on month and now exceeds over 164,000 who are willingly subscribed and welcome our monthly newsletters and communication.
We often find clients making contact with us through links and digital communication which leads to their interest in either selling, buying or letting property with us. Our brand awareness is pivotal to our success and behind the scenes these investments help our clients reach a further untapped library of potential buyers and tenants, most of whom reside in Beds & Bucks.
All of our digital marketing through this channel has links back to our website, directing those who click to our available property and service pages.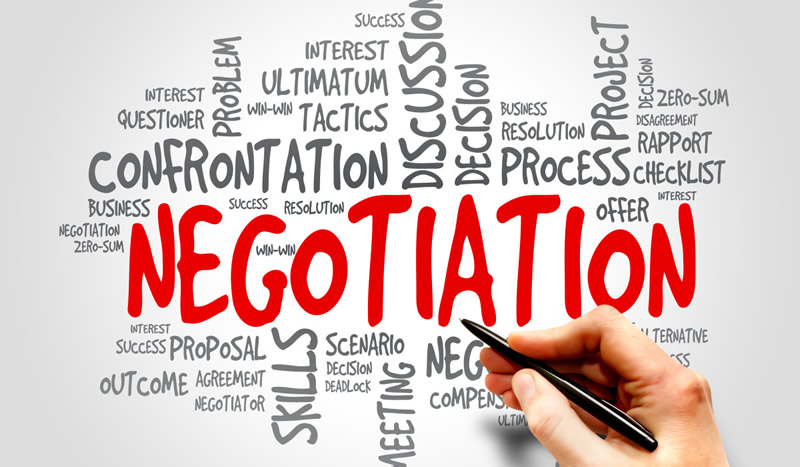 Trained negotiators
Not everyone likes or enjoys negotiating, for anyone not used to doing so it can be an uncomfortable experience taking them out of their comfort zone.
We are experienced property negotiators and included in your service is our willingness to assist you when negotiating your onward purchase. With our experience we can use our skills to potentially help you purchase your next home at a price that suits you. We know how to work the numbers and by taking the emotional attachment out it is quite possible that we could secure you a purchase at a pleasing rate.
Understandably this service cannot be offered if you are buying through another Urban & Rural branch as we must remain impartial where an interest exists. Ask your valuer for details.
Never miss an opportunity
Communication channels are increasing and the way that clients want to make contact is varied and 24/7. How does an estate agency which is working tirelessly every day attending appointments, progressing proceeding sales and servicing a sizable database ensure that when doing so all incoming enquiries are captured and handled properly?
Our branches have a central team dedicated to our offices from 8:00am until 8:30pm answering all calls from across our group of 12 offices and 3 central hubs that exceed four rings, so clients are not left chasing us and their enquiry is collected. Immediately after the entire transcript or recording is securely sent directly to the branch for attention by the next available local team member. Online visitors have access to our 24 hour live chat facility which is handled by real members of our call management team, with industry experience and they too will helpfully manage the enquiry and fire it straight to the branch to be responded to when the team receive it during normal office hours. Our online booking function allows appointments to be made, subject to confirmation with our clients, and the enquiry passed directly to your local team to complete the booking process. All of our systems work on a responsive platform making mobile, tablet and online systems enhancing the client experience. As new and improved systems are introduced you can guarantee that we will embrace those applicable to our industry.
In short, imagine if that one lead was the person who would pay you the highest price and move to your timescales and they were missed and went on to buy or let an alternative property.. we invest in technology to avoid that happening, we go the extra mile to be accessible to clients.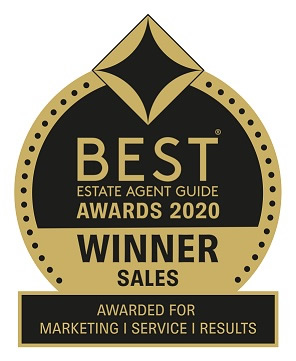 It's official – Urban & Rural are one of the very best Estate Agents in the Country!
Urban & Rural has been independently identified as one of the top estate agents in the country and now features in the Best Estate Agent Guide.
The website is compiled by Property Academy, an organisation that works with agents to improve service standards in the property industry, with the support of Rightmove, the UK's leading property portal. There are c.15,000 estate agents in the country and Urban & Rural was among this year's award winners putting them in the top 3% of estate agents in the Country. Over 3 billion data points were analysed and 20,000 mystery shops carried out in the search for this year's top performers – the biggest assessment of any industry.
The awards are made for property marketing, results and customer service – which consumers consider to be among the most important criteria when selecting which agent to sell or let their property.
Peter Knight, founder of the Property Academy, commented: "We set out to provide the home mover with a reliable resource to help identify the best estate agent in each area, whether someone is looking to sell or let a property. Only the best branches make it into the Best Estate Agent Guide and only the top 3% have been recognised with an award."
Craig Reynolds of Urban & Rural said "These awards follow a rigorous and independent assessment and we are thrilled to have been recognised as among the best in the country".
If you're thinking about selling or letting a property then with our advice you can be confident that you're dealing with one of the very best estate agents in your area.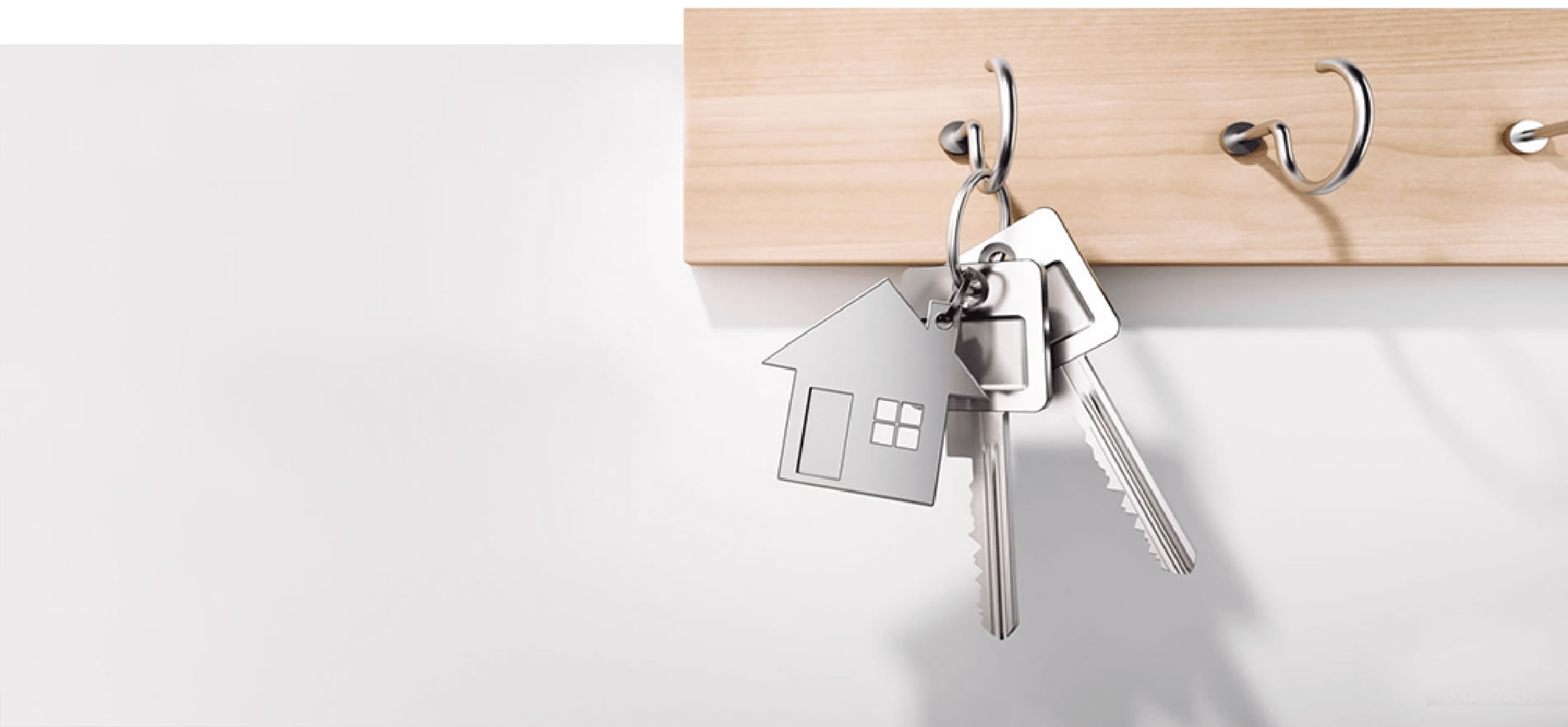 Contact us
Contact your local branch and talk to people who genuinely know the area and the reasons for living there!
Contact Us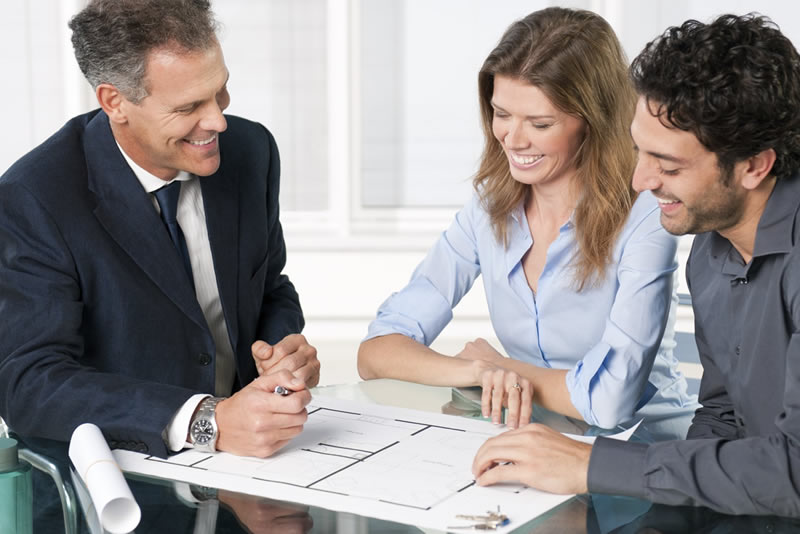 How Much is Your Property Worth?
Your locally based valuer will personally visit you and assess the value of your property, taking into account the locality, condition, additions and improvements while explaining our strategy to market your property to achieve the best possible price.
Book a Valuation